The cryptocurrency market is continuing to slide downwards. Its total market cap now stands at $2.49 trillion, down from roughly $3 trillion two weeks ago. Pretty much every major cryptocurrency, from bitcoin (BTC) to ripple (XRP), is falling along with the market. However, drops are generally preludes to rebounds, providing traders with the opportunity to buy coins on the cheap. As such, we've selected the 5 best cryptocurrency to buy for the weekend rally. This covers coins that have good long- and short-term potential.
5 Best Cryptocurrency to Buy for the Weekend Rally
1. Sandbox (SAND)
Unlike the wider market, SAND has had a great week. At $7.06, it's down by 13.6% in the past 24 hours. That said, it's up by 60% in the past week and by 750% in the past month.
SAND's technical indicators suggest a cooling off in its market over the past 24 hours. However, given that it has been one of the market's biggest gainers in the past week and month, we can easily envisage it continuing to rally over the weekend.
For those who still aren't familiar with SAND, it's the native token of NFT-based open-world game The Sandbox. Impressively, the latter attracted a $93 million investment from SoftBank and other VC funds at the start of the month.
Such an investment represents a big seal of approval for the Sandbox, which has been growing over the past year. It boasted $144 million in total transaction volumes at the time of its raise, although this total is now likely to be much higher given its recent rally. It also claimed 40 million app downloads back in 2020, testifying to its growth prior to the current mania for NFTs and the metaverse.
2. Bitcoin (BTC)
Let's face it, the market isn't going to get out of its rut without BTC getting out of its own slump first. The original cryptocurrency currently languishes at $55,000, down by 4.3% in the past 24 hours. It's also down by 3% in the past week, by 15% in the past fortnight, and by 20% since hitting an ATH of $69,044 on November 10.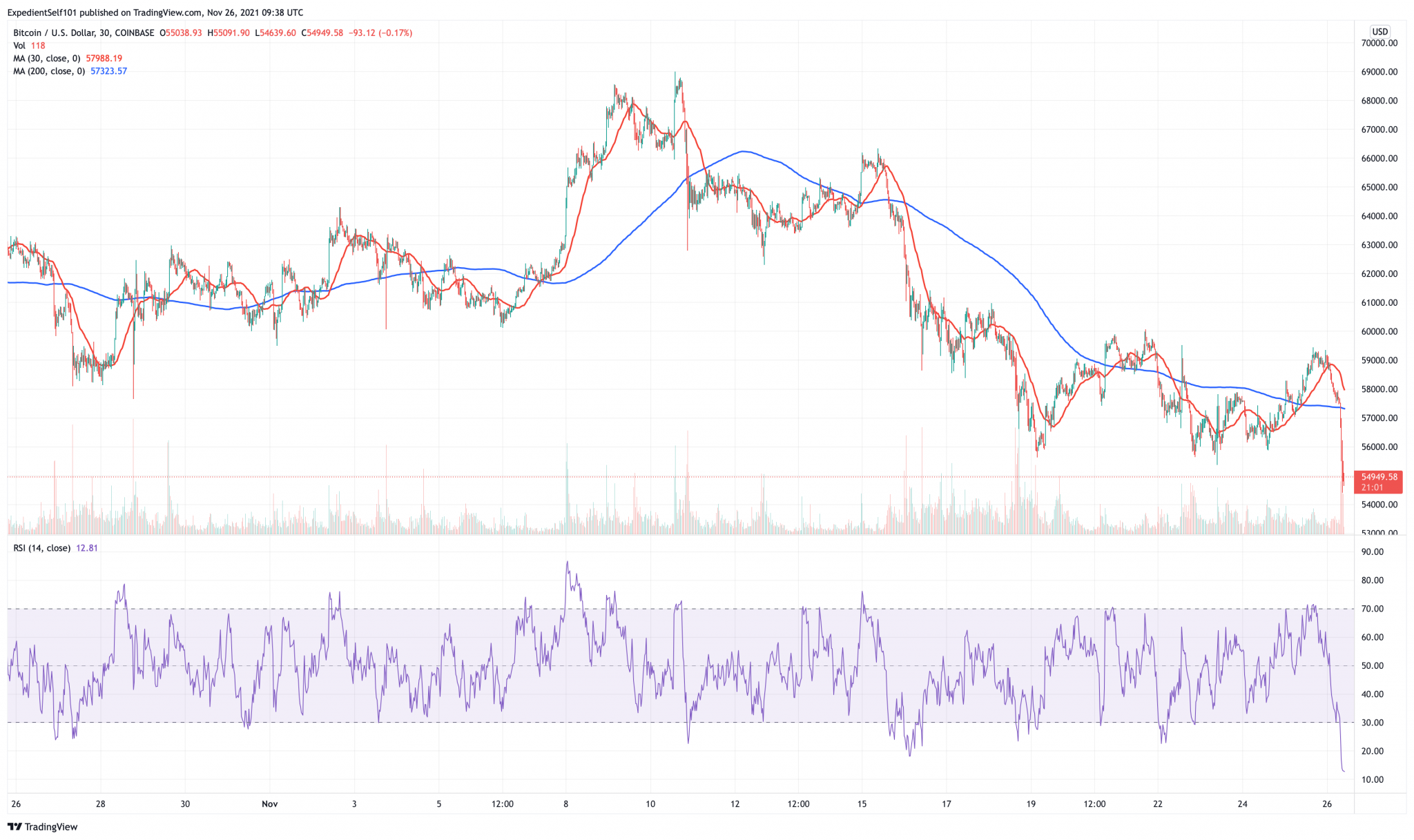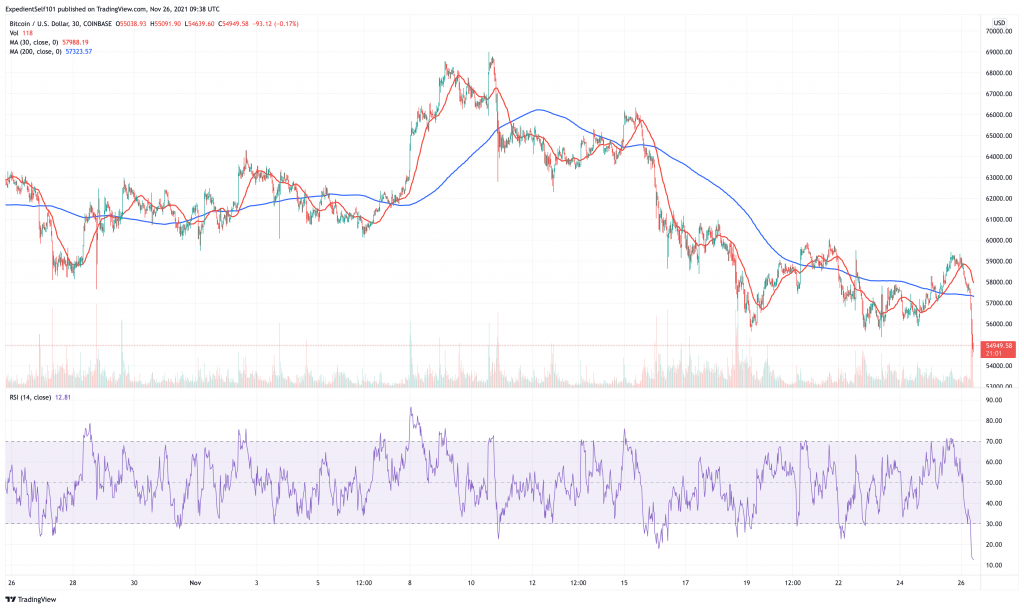 BTC's technical indicators show that, contrary to appearances, now is a good time to buy. Its relative strength index (in purple above) has sunk almost 10, suggesting that the cryptocurrency is far too oversold. Likewise, its 30-day moving average (in red) is on the brink of falling below its 200-day average (blue). Once it does this, it could be a signal that it's about to start rising again.
There's little doubt that the overall market won't rise without BTC, something which makes the latter as good a bet as any right now. More fundamentally, BTC remains the most popular cryptocurrency among mainstream institutional and retail investors. And with institutions and US banks entering the market in various ways in recent months, it has arguably has the best chance of any coin of rebounding strongly.
This is why it's one of our 5 best cryptocurrency to buy for the weekend rally.
3. Ethereum (ETH)
As with BTC, ETH is the kind of big cryptocurrency that will lead market rebounds. At $4,084, it has fallen by 4.7% in the past day, and is 14% down in the past fortnight. It's also 16.3% down since setting an ATH of $4,878 on November 20.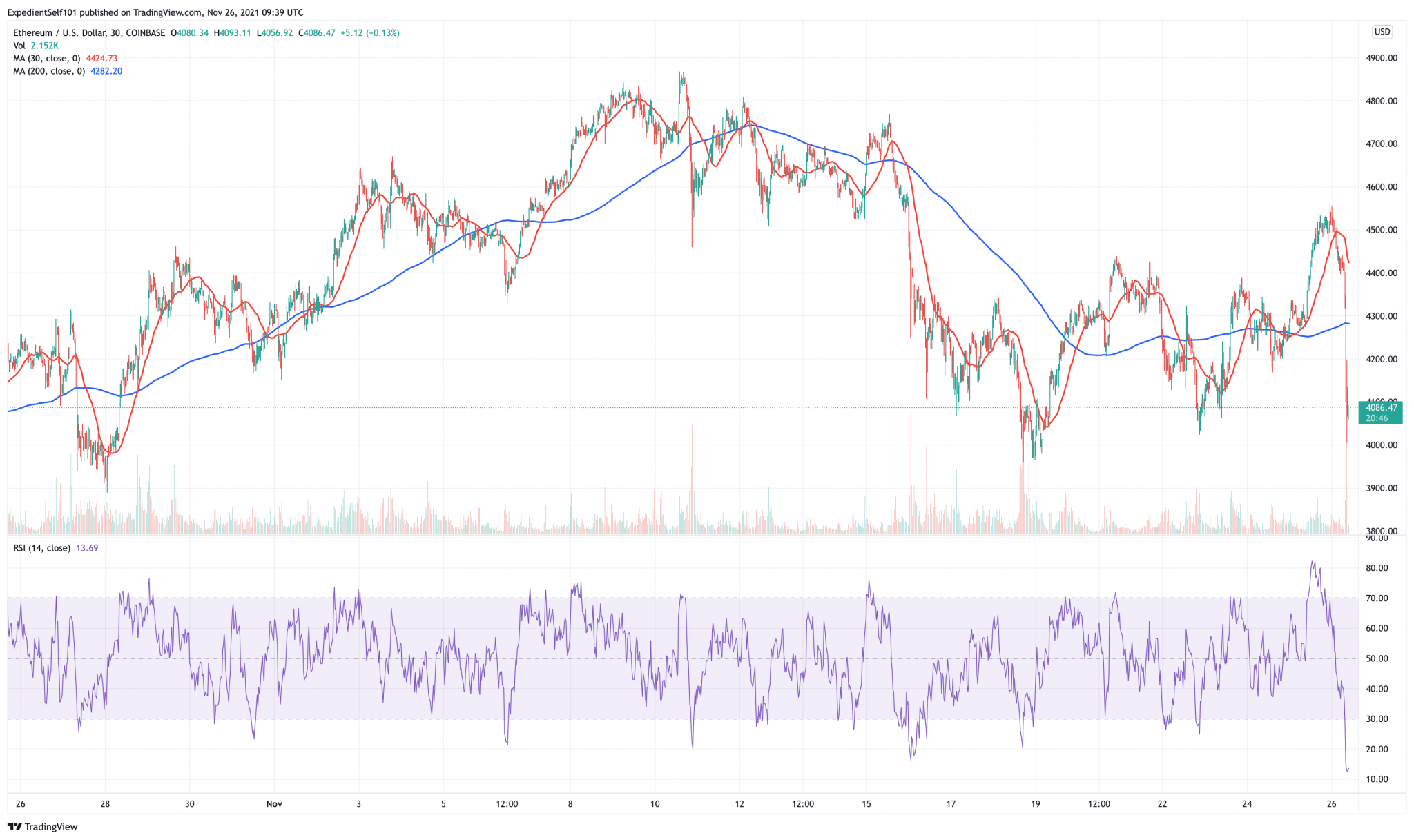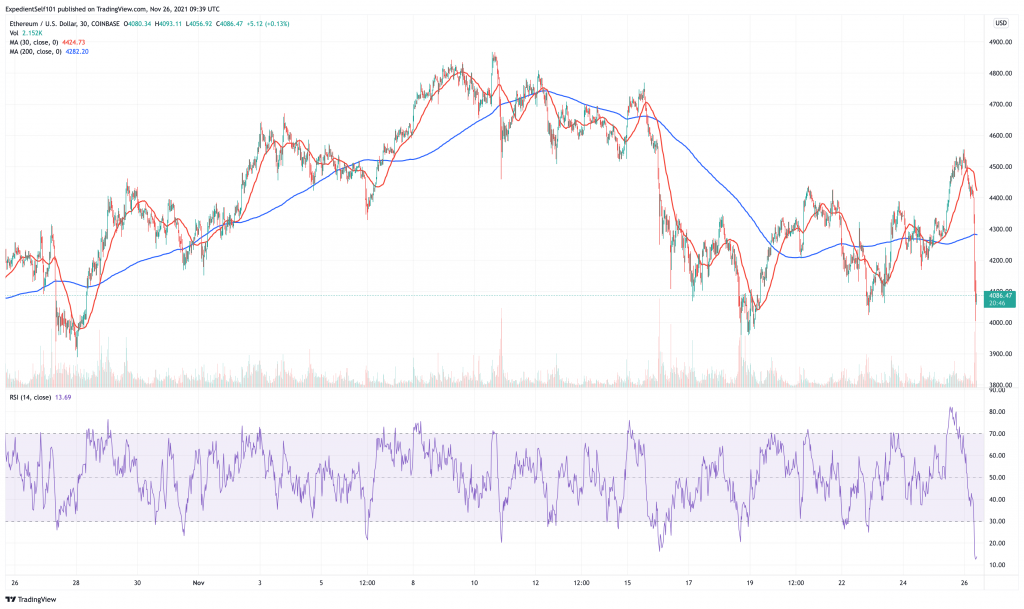 ETH's indicators are basically where BTC's are. Its RSI is nearing 10, while its 30-day is swinging downwards. If you look at all past instances of ETH's RSI sinking below 30 over the past month (as shown in the chart above), you'll see that they pretty much all precede a rebound of one kind or another.
And as with BTC, ETH boasts some of the strongest fundamentals in crypto. Its Ethereum blockchain now accounts for around $171 billion in total value locked in, up from $80 billion as recently as the middle of July. This is more than half of the entire DeFi market.
Ethereum now also burns a portion of its fees, following August's London hard fork. Its issuance has therefore become negative, and with ETH's supply declining over time, increases in demand will squeeze its price upwards.

$ETH is on the path of becoming deflationary

Crunching some numbers since the EIP-1556 was implemented:
– Over 914,680 ETH has been burned
– Meaning that ~9,056 ETH are being burned daily
– Net Issuance dropped to 0.07% in November, as the percentage of fees burned is ~87% pic.twitter.com/Iggi3Sz5ty

— Daniel Ferraro (@danielferraros) November 17, 2021
On top of this, more ETH holders are sending the cryptocurrency to Ethereum 2.0's staking contract. This now holds over 8.2 million ETH. This is a figure that's only going to increase over time, particularly as the transition to proof-of-stake draws closer (expected some time in early 2022).
$ETH continues to hit new all-time highs.

A supply squeeze seems more probable since:
– The staking contract hit 8.2m ETH
– +8m ETH locked in #DeFi
– Since October 1st, more than 860k ETH left centralized exchanges, decreasing the supply available.https://t.co/s9gSaI5JGF pic.twitter.com/EtPQwUAm9h

— IntoTheBlock (@intotheblock) November 8, 2021
4. Crypto.com Coin (CRO)
CRO is one of the few major coins to have rallied in recent days. However, at $0.685924, it has fallen harder than the rest of the market, by 20% in a day. That said, it's up by 3.8% in the past hour, and by 37% in the past week.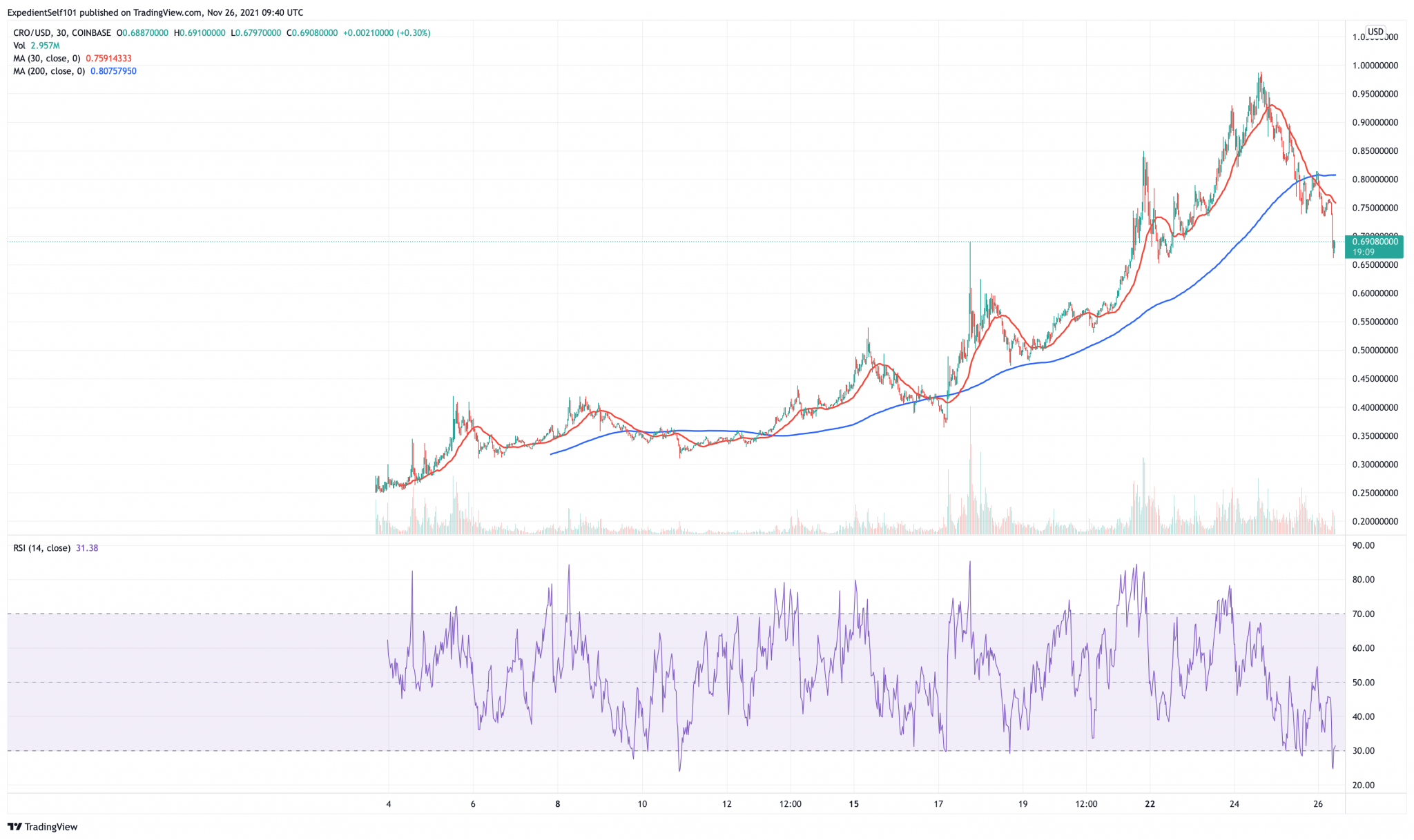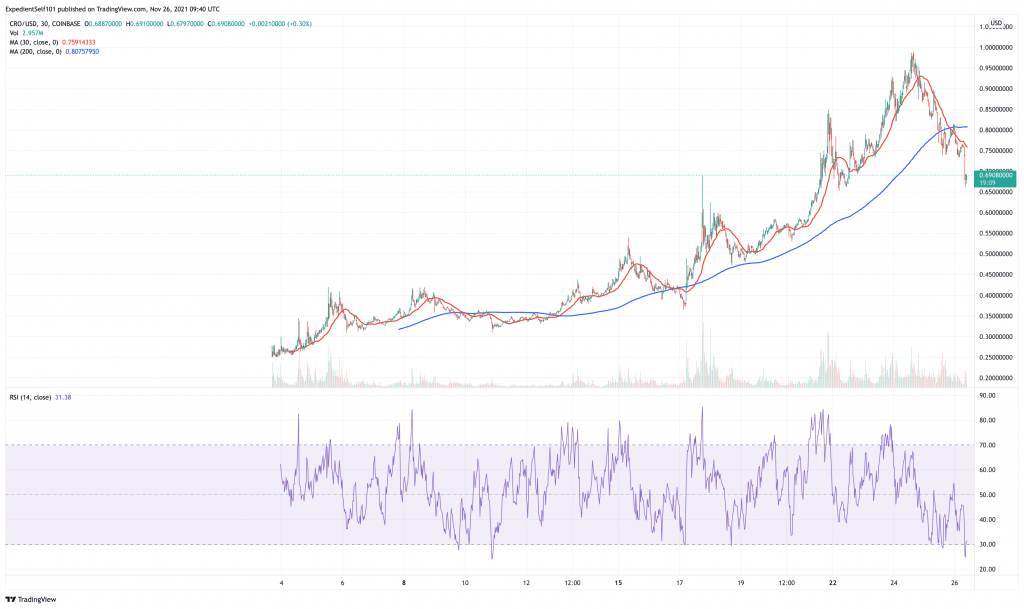 Despite rallying over the past week, CRO's RSI shows that it's now in oversold territory. This may therefore be a good time to buy it at a discount, before it resumes its upwards march.
The reason for CRO's recent rallies is simple. On November 8, Crypto.com launched the Cronos mainnet, a layer-one blockchain that now hosts CRO (it used to run on Ethereum). This is why CRO has been rising up the charts, with users migrating to Cronos and using more CRO as a result.
Given that Cronos is backed and operated by a large exchange such as Crypto.com, we expect CRO to continue rallying in the longer term. Even if its current surge may be easing off right now, there's also a good chance that its momentum may cause a rebound this weekend.
5. Basic Attention Token (BAT)
BAT is one of the top-100's biggest gainers over the past 24 hours. At $1.58, it has risen by 17.8%, although it has sunk since hitting a new ATH of $1.81 some nine hours ago. It's also up by 62% in the past week and by 122% in the past month.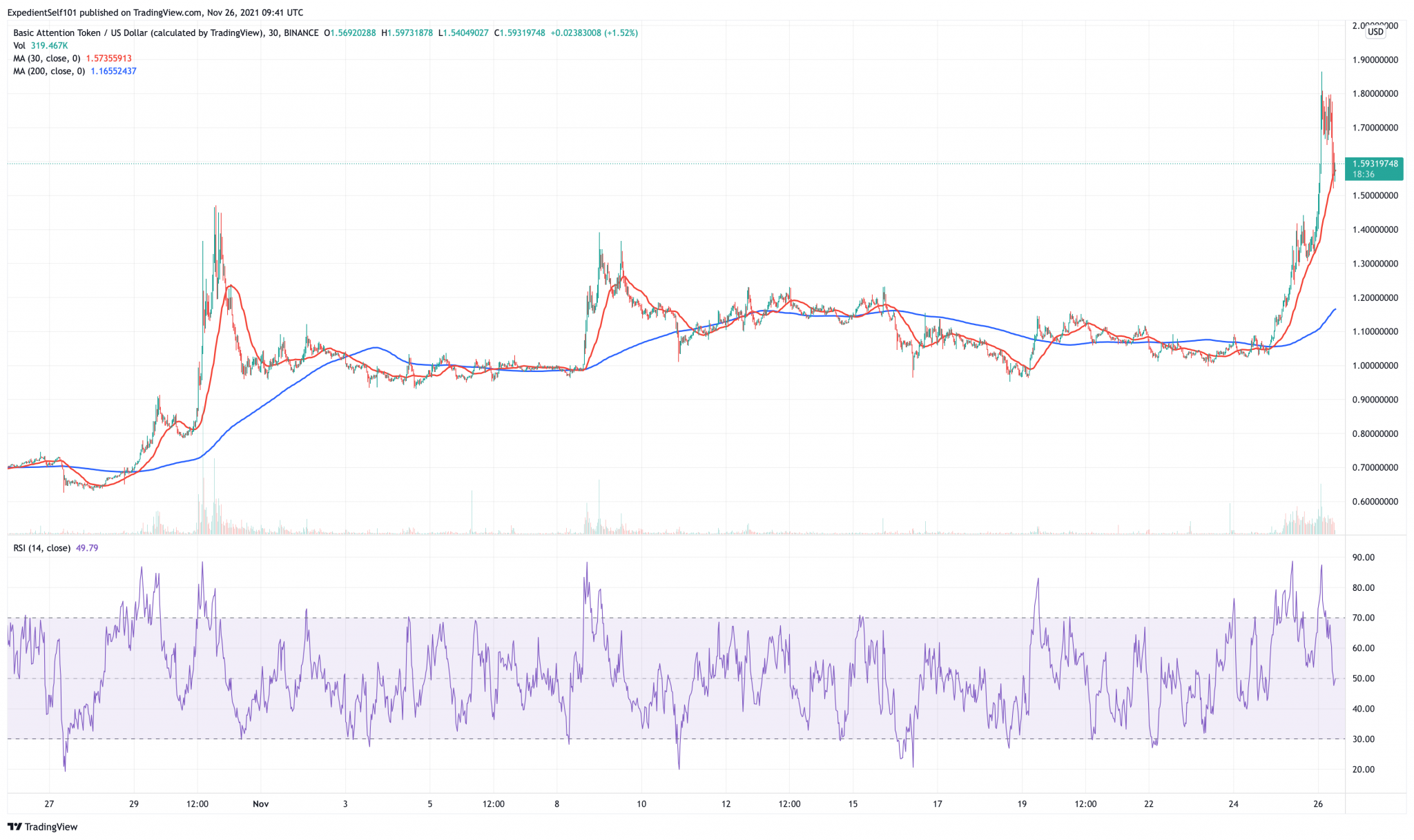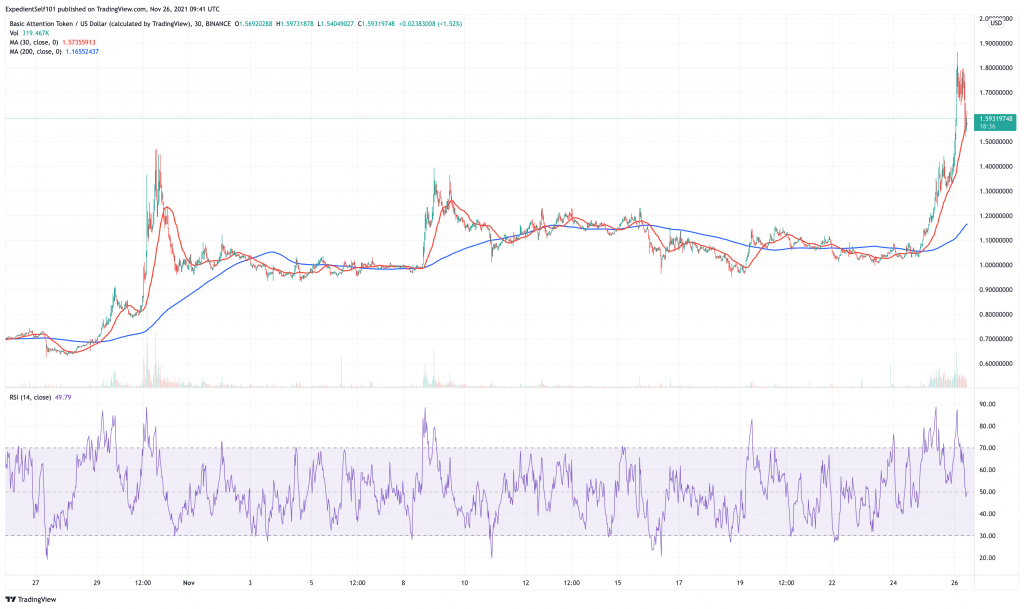 BAT's RSI has returned to a moderate 50 since peaking at 90 in the early hours of this morning. Given its correction since setting a new ATH, it may now be a good time to get in before it continues surging again.
BAT has been rising in recent weeks due to excitement over the 'metaverse' and Web 3.0. It's the native coin of Brave's privacy-oriented web browser, which rewards users with BAT for engaging with content and ads.
In recent weeks, Brave has welcomed a number of integrations and launches. For instance, it launched its own Brave Wallet just over a week ago.
We're thrilled to launch the new #BraveWallet, a crypto wallet built into the Brave desktop browser (mobile coming soon), enabling Brave users to store, manage, grow, and swap their crypto portfolio from a single wallet, as well as connect with Web3 DApps. https://t.co/fU5Kxkwvul

— Brave Software (@brave) November 16, 2021
It also integrated with the Solana blockchain earlier in November.
Brave is bringing Web3 to mobile – allowing users to interact with every Solana dapp in iOS and Android via the open web pic.twitter.com/lbpmTHF3WN

— Solana (@solana) November 8, 2021
BAT is therefore one to watch as the market continues to struggle, with traders potentially relying on it for gains during a difficult period. This is why it's one of our 5 best cryptocurrency to buy for the weekend rally.
Capital at risk
Read more:

Credit: Source link