Huobi Group is planning to celebrate its eighth Birthday in November 2021 since its foundation in 2013. As a significant global Blockchain company, the group has decided to gift uniquely. The company will send an individual to space as a gift.
Huobi Birthday Celebrations
Huobi Global will celebrate its anniversary until the end of November. Several events will crown the anniversary, including giveaway promotions and a space travel ticket. Huobi told Cointelegraph about her plans on Wednesday.
Eligibility for Getting the Space Gift Hamper
Huobi says it will host a contest, whereby one winner will get the chance to travel to space. This freebie contest is open to all members of the Huobi community.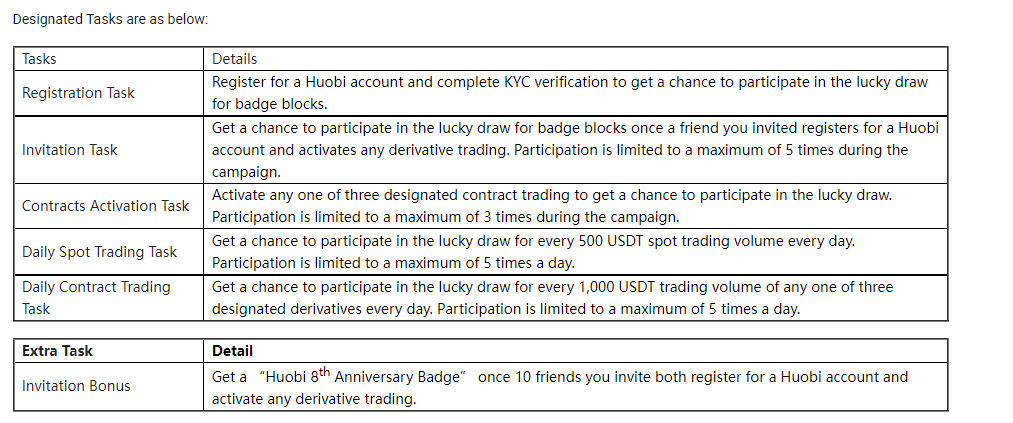 Huobi's Director Jeff Mei added that the winner must also pass specific medical requirements. He said that the health determiners would be announced soon.
Despite this publication, the company declined to share information about the space agency which will offer the trip. For now, we are left to anticipate whether the company will employ a private or public agency to materialize its gift.
Why Gift to Space
Huobi is taking this opportunity to message that space is open to simply everyone who's anyone. Similarly, space represents the world of cryptocurrency, which is the central task of Huobi. Linking the two aspects, the company hopes to see that people open up to the idea of cryptocurrency trading.
The Anniversary Celebrations
In addition to the space and promotional gift hampers, the company will host its annual online forum, the Huobi Summit. The theme for the summit is Huobi Summit 2021 Blockchain and Beyond. This event will take place on Monday, where a panel of industry experts and government officials will meet to hold discussions.
Some speakers will grace the event. One of the speakers is Alan Greenspan, a former chairman of the United States Federal Reserve. Greenspan will discuss global inflation as many investors have turned to cryptocurrencies in search of higher yields.
Greenspan is a significant proponent of Bitcoin (BTC), comparing Bitcoin to the early form of money in the U.S. called the "continental currency." He also criticized the idea of the central bank's digital currency in 2019.
The Future for Huobi Global Group
Huobi Group co-founder Du Jun also recognized that the company would continue to expand its global footprint to introduce innovative products and localized services, starting with markets in Turkey and Brazil. Huobi will strengthen global expansion by increasing global headcount. To attain the increase, Huobi hopes to employ 3000 employees from the current 2300 by the end of 2021.
In Conclusion
Huobi is based in Seychelles. Currently, the Chinese-founded company has offices in Hong Kong, South Korea, Japan, and the United States.
However, Huobi was recently forced to exit China after enforcing another central cryptocurrency ban in late September. As of mid-October, Huobi's businesses operated outside of China and amounted to around 70% of trading volumes and revenues.
Credit: Source link